Gateway Scouting's 100th Anniversary Gala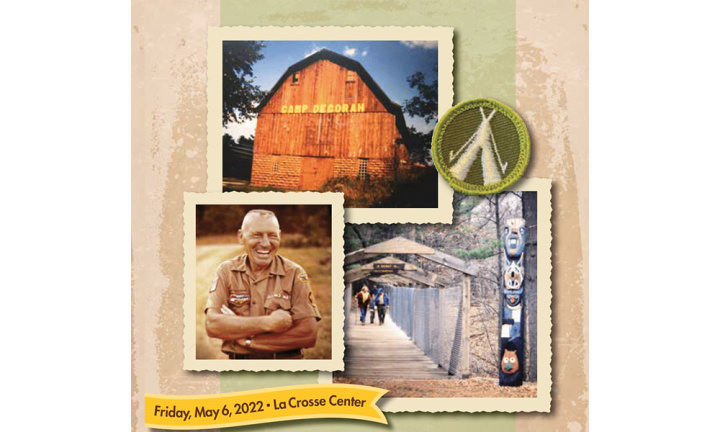 Date/Time:
May 6, 2022 6:00 pm to 9:00 pm
Location:
La Crosse Center
300 Harborview Plaza
La Crosse, WI 54601

View the Event Invitation Here
We would be honored if you would join us to celebrate Gateway Area Council's 100th Anniversary. Our evening's program will feature three special guests as well as a variety of other exciting celebration offerings:
The evening's honorable host:
Gene "Topper" Hagerman, the youngest son of Sam and Betty Hagerman, grew up with Camp Decorah as his home and neighborhood. The member of the Eagle Scout class of '60 graduated from Holmen High School in 1964 and UW-La Crosse in 1968. He earned a master's and doctorate in sports physiology from Ohio State. Topper served on the U.S. men's alpine ski team for the 1984 Winter Olympics in Sarajevo; the team won two golds and a silver medal. He's currently a managing partner in Axis Sports Medicine in Eagle, Colorado, specializing in sports physical therapy.
Our keynote speaker:
Mark Kriebel joined Cub Scouts in Akron, Ohio's Pack 3094 in 1960. He received his Eagle in 1968 in Troop 225 in Vestal, New York. Mark became extremely active in BSA; he currently chairs the National BSA Community Relationships Committee and is a BSA Foundation Trustee. Mark has been named a Distinguished Eagle Scout, is a recipient of the Silver Beaver, Silver Antelope, and Silver Buffalo awards, as well as a Vigil Honor member of the Order of the Arrow.
The Honored Eagle Scout Award recipient:
Mark C. Lee, Eagle Scout class of '69, earned the silver palm and the Pro Deo et Patria Award, as well as a Brotherhood member of the Order of the Arrow. The 1970 Viroqua High School graduate attended the U.S. Air Force Academy, graduating in civil engineering in 1974. He was a fighter jet pilot for five years. In 1985 he qualified for assignment as a mission specialist for future space shuttle crews. His missions included the launch of the Magellan Space Probe to Venus and the maintenance of the Hubble Space Telescope. The Gateway Area Council is proud to extend Lee this honor.
close
Evening Agenda:

5:30 pm: Social Hour & 100 Year History Exhibits
6:30 pm: Opening Flag Ceremony & Comments
6:45 pm: Dinner Served
7:15 pm: Celebration Program
Join us to celebrate 100 Years of Scouting in the Coulee Region!
Do you know someone who you think should receive an invitation to the Centennial Gala?
Submit their information here to have an invitation sent: Centennial Invite
---
The Gala Meal Includes:
Mixed green salad topped with tomatoes, cucumber, red onion, served with a creamy Italian Dressing
AND CHOICE OF:
Sauteed Chicken Breast adorned with a chardonnay white sauce
OR
Marinated Filet of Salmon (Jack Daniels, lemon, and fresh thyme marinade) served with an herb butter
PLUS
Roasted Yukon Potatoes with Fresh Rosemary
Fresh seasonal vegetables
Cherry Cobbler topped with a Sweet Whipped Cream
close
---
Please Complete your Registration Below