Cub Scout Pop Up Camps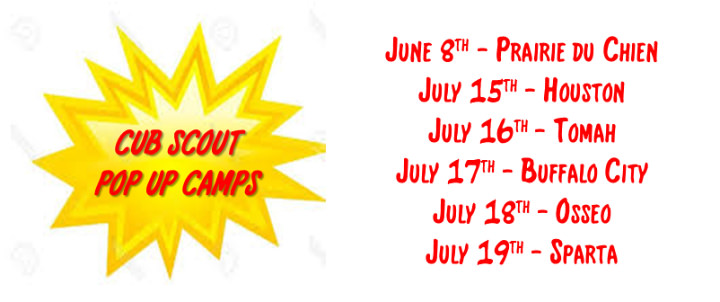 DATES TO BE DETERMINED FOR 2020
We are excited to take Camp Decorah on the road to your community for summer 2019! Same program in each community.
Program open to all kids—bring a friend or sibling.
Cost to attend is $40/youth. Standard Program Time is 8:30am—4:15pm.
Extended Care Option (7:30am—5:30pm) available for $5 extra.
Highlights include: - scout skills; - portable bb gun range; - archery; - crafts; - field games; - new friends; a full day of fun.
Adults required for youth grades K—1.
Items to bring: closed toed shoes; sunscreen; lunch and snacks; water bottle.
Click on one of the following pop up locations to register:
July 15, 2019 —Houston Nature Center, 215 W. Plum Street, Houston
July 16, 2019—Monroe County Fairgrounds, 1625 Butts Avenue, Tomah
July 17, 2019—Buffalo City Park, 26 N. Humboldt Street, Buffalo City
July 18, 2019—Merchants Baseball Field, 1477 County Road K, Osseo
---
Refund Policy: Cancellations accepted up to 7 days before the event with a full refund.
Cancellations after that date are non-refundable unless due to extreme circumstances. All refunds after this date must be requested in writing within one week of the event.