Gateway Scouting Recognition Event Details and Tickets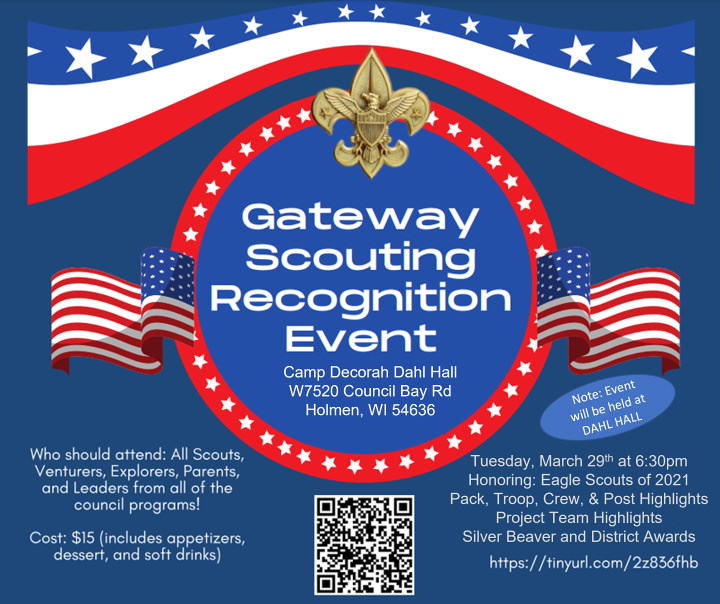 Date/Time:
Mar 29, 2022 6:30 pm to 8:00 pm
Location:
Camp Decorah
W7520 Council Bay Rd
Holmen, WI 54636
Location Phone: 608-526-6418

SCROLL DOWN TO PURCHASE TICKETS
You are invited to attend our Gateway Scouting Recognition Event! Buy your tickets below!
When: Tuesday, March 29, 2022 at 6:30pm - 8:30pm
What: To recognize and celebrate:
Eagle Scouts of 2021
Highlights of 2021 from all the Packs, Troops, Crews, and Posts
Highlights of 2021 Volunteer Project Teams
Silver Beaver Awards and District Awards of Merit
Where: Camp Decorah DAHL HALL (Please note this is the new building to house this event.)
Who should attend: All Scouts, Venturers, Explorers, Parents, and Leaders from all of the council programs!
Cost: $15 (includes heavy appetizers, dessert, and soft drinks)
Please mark your calendar today!
Ticket purchase form is below!
Please provide your highlight so it can be shared at the Recognition Event on March 29, 2022 at 6:30pm.
Submit highlights and photos of your Pack, Troop, Crew, or Post
OR
Submit a Project Team Highlight
OR
Submit an Eagle Project Highlight
Leadership Award Nomination Forms:

View list of Pack, Troop, Crew or Post Highlight entries added so far
View list of Project Team Highlight entries added so far
View list of Eagle Project entries added so far
Thank you so much!