Webelos Camp: Marvel-ous!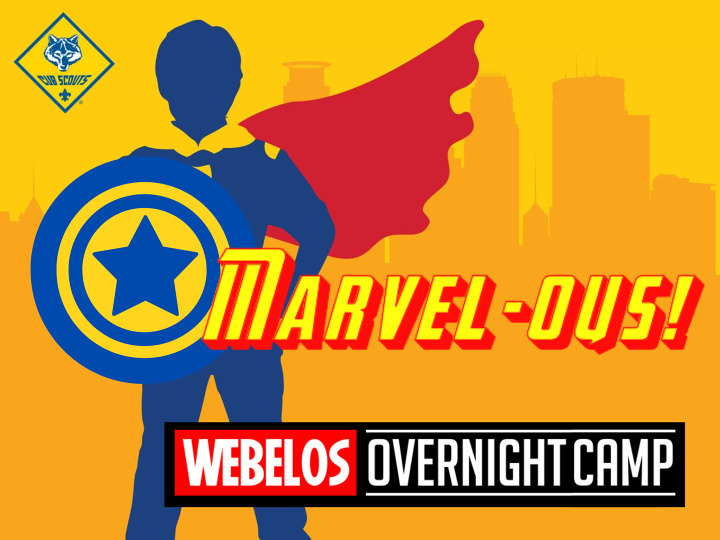 July 21-23, 2023 at Camp Decorah
2023 Theme: Marvel-ous!
For kids entering Grades 4 to 5. Program highlights include Activity Pins, Pool, Shooting Sports, Fishing, Scout Skills, Crafts, Hero Games, Camp shows and more!
All lodging in mini cabins or campsites. Register early to get space in a mini cabin! On Day Two - 5th grade Scouts will stay overnight in an outpost campsite (tents provided).
All meals are provided in the dining hall.
All Scouts will earn 4 Adventure Pins.
Arrive before dinner on Friday, July 21st and depart after lunch on Sunday, July 23rd.
Camp Decorah map of camp sites
Adventure Pins Offered:
Track A/B: Aquanaut, Castaway, Into the Woods, & Engineer
Track C/D: Build It, Aware and Care, Game Design, & Earth Rocks!
Scouts pre-register for either track.
Notes:
- Scouts will register for one track and earn 4 activity pins in that group.
- All youth should attend with a designated adult. This can be their parent or another adult from their Pack. If multiple youth from a Pack are attending, two adults should as well, so that two-deep leadership requirements are met.
2023 Fees to Attend
Youth Camper: $165
Adult Camper: $65

Special Family Pricing
Siblings 5 and under (not registered in Cub Scouts): $70
Siblings 3 and under: $25
Second Parent Attending: $50
Refund Policy
Cancellations accepted up to 14 days before the event with a full refund.
Cancellations after that date are non-refundable unless due to extreme circumstances. All refunds after this date must be requested in writing within one week of the event.
If the camp cannot occur as scheduled due to COVID-19, a refund or credit for future programs will be offered to families. If you cannot attend due to COVID-19 a quarantine a credit/refund will be offered.

| File Name | Description | |
| --- | --- | --- |
| Part 1- Cub Scout Camps Leaders Guide 2023- February Update | | Download |
| Part 2- Cub Scout Camps Leaders Guide 2023- February Update | | Download |