Camp Decorah Family Adventure Camp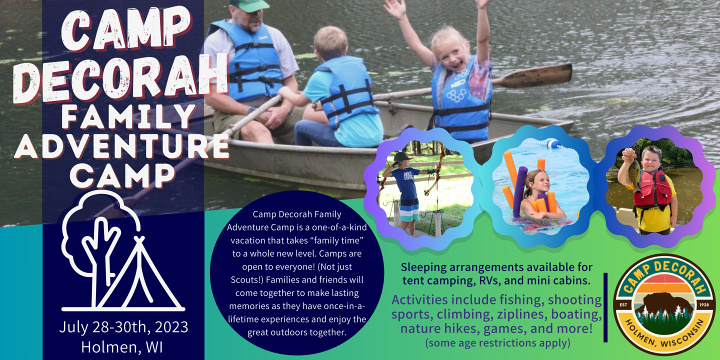 Full details and schedule coming soon. Registration will open on April 15th.
---
Camp Decorah Family Adventure Camp is a one-of-a-kind vacation that takes "family time" to a whole new level. Camps are open to families, friends, and groups (not just Scouts). At Camp Decorah Family Adventure Camp, families will come together to make lasting memories as they have once-in-a-lifetime experiences and enjoy the great outdoors together.
---
Visit Wisconsin's Driftless Region for the Camp Decorah Family Experience!
You can enjoy:
· Swimming (swim test required for leaving the shallow end)
· Boating
· Canoeing and Kayaking in Council Bay
· Nature Hikes/Presentations
· Outdoor Skills Presentations
· Rifle (11+) / BB Gun Shooting (6+)
· Archery (5+)
· Star Gazing
· Scoutcraft
· Handicrafts
· Climbing (5+) /Zipline (11+)
· Gaga Ball
· Campwide Games
· Fishing in the Bay or our Stocked Pond
· Decorah Peak Hike
· Family Game Nights
· Campfire Show
Families will camp in our 2 or 4 person cabins, or may bring their own tent, RV or popup camper at no additional charge!
The Decorah Family Experience is fun for the entire family. This camp is designed for family members to enjoy camp and do activities together.
---
Items to bring: · Tent / RV / Pop-up Camper (If not staying in the mini cabins) · Sleeping pad / Sleeping bag or blanket · Swim wear · Personal Toiletries · Change of clothes · Boots or other closed toed shoes · Towel · Sunscreen and Bug Repellant · Fishing gear (optional) · Water bottle · Class A and B Health Form (attached below)
---
Registrations open April 15th, 2023. Registration deadline is July 20, 2023. Please note RV, and popup locations are limited so you may want to register in advance for these options.

Schedule:
Friday, July 28
1:00—4:00 Arrive/check-in, camp tour, swim checks, set up
5:15 p.m. Flags/Assemble for dinner
5:30 p.m. Dinner
6:30 p.m. Campwide Game or Open Pool
7:30 p.m. Campfire in the Cleary Firebowl
8:30 p.m. Friendship Fires and S'Mores in sites
Saturday, July 29
8:00 a.m. Flag Raising /Breakfast
9:00 a.m. Program Areas Open
12:00 p.m. Lunch followed by Chapel
1:00 p.m. Family Time
1:30-5:00 Program Areas Open
4:00 p.m. Family time/Fishing Derby
5:15 p.m. Flags / Gather for dinner
5:30 p.m. Dinner
6:30 p.m. Family Game Night
8:00 p.m. Campfires in sites
Sunday, July 30
8:00 a.m. Flag Raising/Breakfast
8:45 a.m. Break camp, checkout, depart

Pricing:
$99 for a (up to) 4 person family (mini cabin's included) – per night – stay FRI and/or SAT night
Additional family members are an extra $20 per night

Do your own meals – no additional fee
OR buy meals from us
$30 per person age 12 and up (5 Meals)
$20 per age 11 and under (5 Meals)
For other programs geared toward youth and families, click here!
| File Name | Description | |
| --- | --- | --- |
| BSA Health Form Part A and B | Basic health form for activities lasting fewer than 72 hours | Download |