Scouts BSA - Summer Merit Badge Days 2023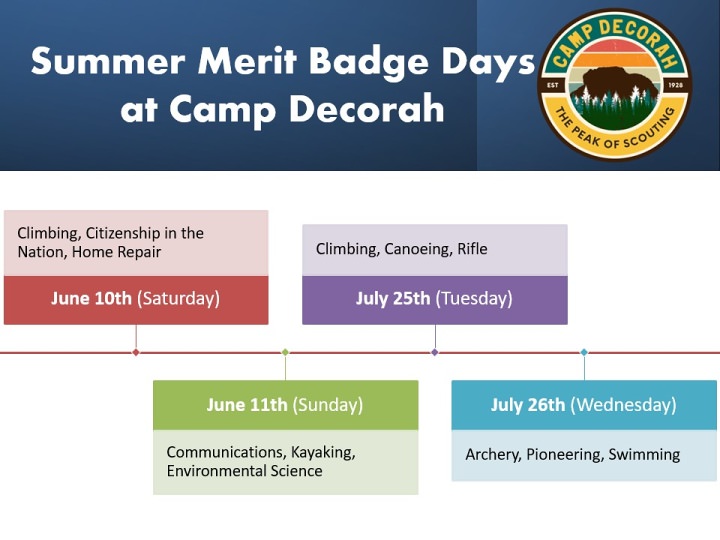 Summer 2023 Merit Badge Days: June 10-11 & July 25-26
Add to your merit badge sash with additional programming at Camp Decorah!
All merit badges offered from 9 am - 4 pm.
Merit Badge Classes are $40 each, or $25 each if the Scout is also attending Summer Camp with us. If you attend all four days, there is an additional $20 discount . (Please contact laurel.hemmer2@scouting.org to get the price adjusted in your cart.) Scouts should bring their own lunch and snacks.
There is a 3-Scout minimum for each class to occur.
Summer 2023 Merit Badge Days
Saturday, June 10

Sunday, June 11

Tuesday, July 25

Wednesday, July 26

Climbing

Communications

Climbing
Archery

Citizenship in
the Nation

Kayaking

Canoing

Pioneering

Home Repair

Environmental
Science

Rifle

Swimming
Refund Policy
Cancellations accepted up to 14 days before the event with a full refund.
Cancellations after that date are non-refundable unless due to extreme circumstances. All refunds after this date must be requested in writing within one week of the event.
If the camp cannot occur as scheduled due to COVID-19, a refund or credit for future programs will be offered to families.