Popcorn Hub 2023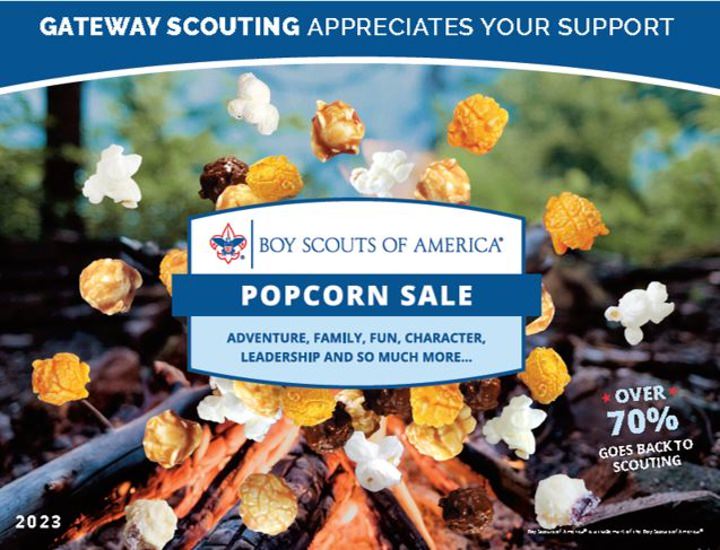 Your one-stop location for links to all items which will support the Fall 2023 popcorn sale!
The Council Popcorn Key which is needed to place a Show and Sell Order is: 624GAC
The Fall 2023 Popcorn Sale is almost here!
Based on feedback from families and units we have switched back to Pecatonica River Popcorn as our vendor.

This means that the Fall 2023 sale will have:
Greater variety of popcorn products, including products in tins and buckets rather than bags
NO RISK return policy – Units & Families can order products to have on hand to sell and know that any product checked out can be returned if undamaged
Added selling point of letting customers know that this is a Wisconsin product

Read the 2023 Popcorn Guide & FAQ here
Find the slidedeck from the 2023 Kickoffs here -- info on how to place a unit order is on p. 29-35
Important Next Steps
Decide as a Pack or Troop to participate in the Popcorn Sale
Make plans to have a Parent or Adult in your Pack volunteer as the Popcorn Kernel (lead person organizing the sale): Find a description of this role here
Have that person ( or other individuals if they are not available) attend one of the Fall Kickoff meetings on 8/3, 8/5, 8/8, or 8/10. Sign up for the Kickoff you will attend here.
Place an order for product by August 30, 2023. This popcorn will be picked up on September 14 or 15, 2023.
For a sample order of product for 5 / 10 / 15 / 20 / 25 / 30 Scouts click here.
NOW LIVE- Show & Sell sites: Sign Up Here
Popcorn Distribution Location
Trane Technologies Building 15
2512 S0. 20th Place
La Crosse WI 54601
Key Dates
August 3, 5, 8 or 10 -- Popcorn Kickoff Events -- attend one with another member of your unit attending the Cub Scout or SBSA Membership session to earn an extra 5% commission!
August 1 -- First day of 'friends and family / online ' sales
August 30 -- Show & Sell popcorn orders due -- place your order in the prpopcorn.com system
September 14/15 -- Popcorn Distribution at Trane warehouses in La Crosse
September 16 -- First day of storefront / show & sell sales
October 30 - Last day of sales
November 1 - Deadline for any unsold product to be returned
November 2 - Orders Due
November 17 - Final distribution of product
November 17 - All popcorn sales money due to Gateway Area Council
Prizes for Selling
Units will choose if they want their Scouts to receive prizes for selling popcorn OR if they want to do their own recognition program. Units NOT doing the prize program will recieve an additional 3% commission.
View the prize program fliers here: Page 1, Page 2

ALL SCOUTS selling are eligible for a variety of other recognitions. Find all the items here.